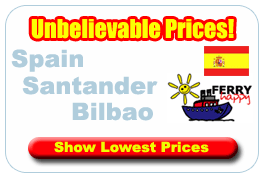 Ferry to Bilbao Terminal
The historic port of Bilbao has now been running for around 700 years and has a population of over one million.Surrounded by breathtaking scenery it makes a fantastic tourist destination.The Bilbao ferry terminal is located in a fishing village called Santurtzi, Northern Spain, accessible from both the west (Santander) and the east (Madrid and Barcelona) via the A8. Take the N644 turn off and follow this road to the ferry port. There are no car parking facilities in the village, however you can leave their vehicles at the port at no cost.Why not book a cheap ferry to Bilbao online today for that perfect holiday.
Ferries From UK To Spain & France
Bilbao Terminal
Being the main factor in the modernisation of the Gulf of Biscay it is the driving force of social and economic development.Ambitious architectural, and general infrastructure projects have fuelled the urban and financial regeneration of the city.

Taking the ferry from the port of Portsmouth to Bilbao enables you not to have to drive the long distance travel through France. As a major city in Northern Spain, Bilbao is a great place should you be going on an onward journey into Spain.

The city of Bilbao, Spain's biggest port and the 6th largest city, is situated in the heart of the Basque Country and is a good place to see the regions attractions.

Bilbao's cultural calendar is hard to resist; it has two of the best art galleries in Spain, six themed museums, countless contemporary art exhibitions and a continuous series of shows and performances, such opera, symphony orchestras, theatre, dance, cinema, easy listening, pop and rock 'n roll.

The ferry port of Bilbao is situated in the centre of the European Atlantic coast, on the eastern side of the Bay of Biscay. This advantaged geographic location enables the Port of Bilbao to link with the main international ports, especially links with both the American continent and the north of Europe.

After 700 years of acting as a port, nowadays over 200 maritime services link Bilbao with 500 ports worldwide. The Port of Bilbao meets the highest operational capacity requirements. Last year, Port of Bilbao handled over 110,000 passengers.

At Bilbao there are many lively bars and sensational restaurants. You can also go to the Fine Arts Muesum, the Arriaga Theatre, the Plaza Nueva and the Basque Museum. Add to these the 19th century serenity of the beaches of San Sebastien and the stately promenades containing its world-class haute cuisine restaurants and you have a lovely place to go, certainly worth the length of the journey by ferry.

P&O Ferries offer regular ferry crossings from Bilbao to Portsmouth and Brittany ferries connects the nearby port of Santander to Plymouth.
Bilbao | Cheap ferry to Bilbao | Ferries to Bilbao | Ferry to Bilbao | P&O | P&O Ferries | Portsmouth | Portsmouth ferry to Bilbao | Santander | Spain